School Profile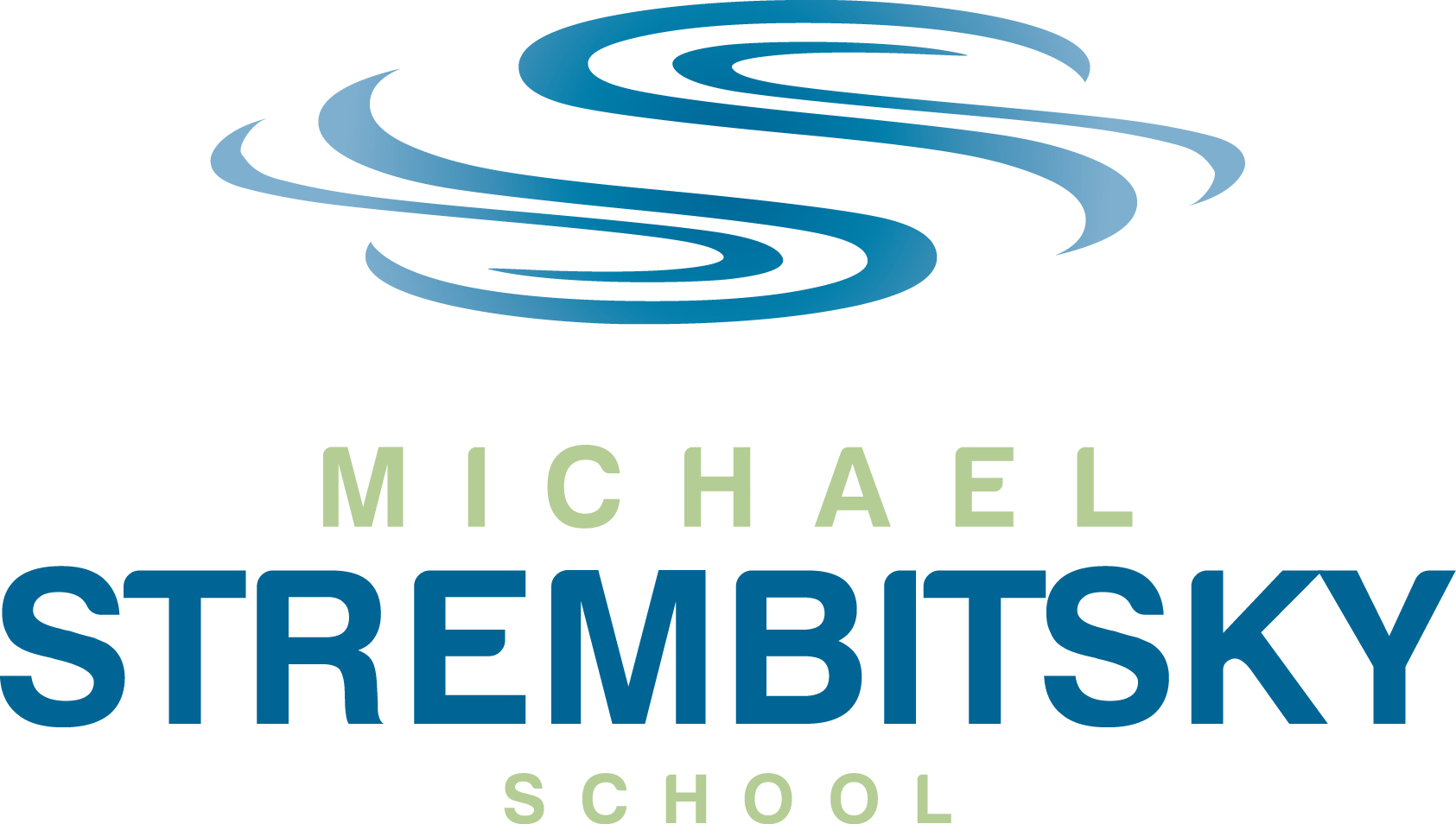 When a rock is dropped into a pool, it sends out ripples in all directions. The ripples continue to move and change and cause an effect that is more than just that moment in time.
Water holds the power of transition. The continuity in fluidity, from one state to another, is a symbol for metamorphosis. Michael Strembitsky was a leader for change. He was an innovator that stirred the waters to improve public education. His contributions are far-reaching.
In the Michael Strembitsky School logo, water is rendered to resemble the letter "S" for Strembitsky. The font is strong and contemporary, with emphasis on the surname. The colours are derived from the colour palette of the school's interior.
The Michael Strembitsky logo represents the fluidity of teaching and learning in the 21st century and alludes to the far-reaching connections between our school with students, their families, and beyond to the global community. The logo also reflects our school's willingness to embrace change and take risks to better enable students to develop to their full potential and contribute positively to their community.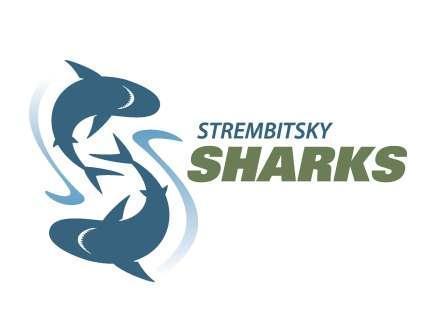 There are over 500 species of Sharks worldwide, each one as unique as our own students. They are a keystone population and their contribution to the ocean ecosystems are invaluable. Sharks are known to be social, highly curious and exhibit behaviour that resembles play in the wild. Go Sharks!
Our Namesake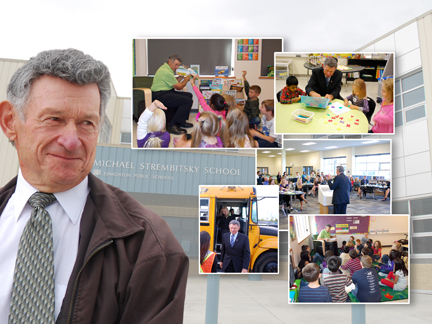 Mr. Michael Strembitsky
Michael A. Strembitsky became Edmonton Public Schools' eighth Superintendent of Schools in 1973 and over a number of years spearheaded the district's transition to a school-based decision-making organization, the first of its kind in a large North American school jurisdiction. A firm believer in the empowerment of staff at the school level to be involved in making decisions for results which they then are accountable, he possessed a particular knack for translating well intentioned beliefs into reality. He believed in change processes that honored what was done in the past and at the same time engendered support for a "better tomorrow." To him overcoming obstacles to change was an opportunity for a solution.
Internationally, he became known as the "guru of site-based school management". In May 2004 he was named one of the 100 Edmontonians of the Century by the Edmonton Journal in honour of his contribution to public education. In 1986 he received the Province of Alberta Achievement Award of Excellence and in 1989 he was conferred an Honorary Doctorate of Laws by the University of Alberta.
His personal standards and diverse interests, career success and contribution to public education are recognized by the Edmonton Public School Board's annual Michael Strembitsky Award of Excellence, gold, silver, and bronze, presented to three outstanding graduating students.
His career with the Edmonton Public School Board began in 1956, teaching at Crestwood, and was followed by assignments at McKernan, Ritchie, Queen's Avenue and Queen Elizabeth schools. In 1963, he briefly served as an assistant principal at Queen Elizabeth. In 1965, he was appointed assistant principal of Fulton Place School and in 1966 was appointed principal of the new Delwood School.
The year 1969 saw the beginning of his rapid progression through the administrative ranks of the Central Administration. In January, he was appointed acting supervisor of Elementary Education; in August, director of Elementary Curriculum and in December to the position of Assistant to Superintendent in the Superintendent's office. In the latter position, Mr. Strembitsky's various assignments included chairing of operational meetings of the assistant superintendents, preparing Board submissions on the new School Act and restructuring the Board's processes and preparation for negotiations with the various employee groups. As the Board's spokesman in teacher negotiations he successfully negotiated a groundbreaking collective agreement in which differences in teacher work conditions K-12 were eliminated; sabbatical provisions were greatly enhanced and negotiations moved from a calendar year to a school year.
In July of 1971, after his appointment as Deputy Superintendent Designate, he was granted leave to pursue doctoral studies at Columbia University, New York. Returning in February of 1972, he served as Deputy Superintendent until August of the same year, when he was named Acting Superintendent of Schools to fill the vacancy created with the departure of Rolland W. Jones, who returned to the United States.
Following a nationwide search, in January of 1973, the Board appointed Mr.Strembitsky the Superintendent of Schools. At the age of 37 he was the youngest incumbent in that position. In 1976, in order to achieve the greater involvement of the schools in the budgeting process, the Board appointed him to the additional position of Secretary-Treasurer for the district, the first such appointment in the Province of Alberta. Once school based budgeting was in place, this designation was relinquished with the appointment of a Board Treasurer and a Board Secretary, both positions reporting to the Superintendent of Schools.
The groundwork for the restructuring of the district's operations to a school focus involved many incremental steps that took place over a decade. Then in 1979-80, the major reorganization took place. The district would continue to report to the province on a calendar year, but operate internally with the schools on a school year. Central office budget authorities that previously minutely controlled budgets in the past would "earn their keep" by responding to school needs. Schools became the initiators of required actions rather than recipients of decisions made away from the schools. This form of school organization subsequently spread to a number of cities in the United States and other countries.
Not only a believer in involvement of front line staff, Mr.Strembitsky also believed parents should have more say in their children's education and introduced open boundaries as well as a number of programming options, including International Baccalaureate, Advanced Placement, Fine Arts, Talmud Torah, Waldorf, Outdoor Education and bilingual programs in Arabic, Chinese, Japanese, German, Hebrew and Ukrainian.
The number of female senior administrators increased dramatically during Superintendent Strembitsky's tenure. At the time of his departure the senior staff complement was equally represented, male and female.
After 38 years with the Edmonton Public Schools, Mr.Strembitsky resigned in May of 1994 to take a position in Washington, D.C. with a "think tank" organization promoting reform and restructuring of school districts across the United States. For the next 15 years he worked full-time in the United States commuting, most of that time, from Edmonton.
He has also consulted to governments of New Zealand, Australia, Hong Kong, Thailand, Israel and the United States Department of Defense Schools [DoDDS] in Washington, D.C., Japan, the Philippines, Germany and Panama. In 2009 after 53 years of public service in advocating for public education, Mr.Strembitsky retired at the age of 74.
School Layout
Michael Strembitsky is an ASAP school - owned, administered and operated by Edmonton Public Schools. The school has been built to achieve LEED (Leadership in Energy and Environmental Design) Silver certification, an independent rating system used to measure environmental efficiency. LEED Silver buildings are more energy efficient, cost less to operate, and provide a healthier work environment through improved air quality and use of natural light.
Core School Design